What can you do to protect your Mango Bike?
You spent hours designing it, we spent days carefully building it, now take two minutes to protect your beloved Mango Bike!!  Bike theft is a real problem in the UK and refuses to go away! Complete the following steps and you and your mango bike stand a great chance of staying together for years.
#1
As soon as you receive your beautiful Mango Bike take a moment to note down a few details that you may need in the future. This info could save you from never seeing your ride again. Save one of your many Mango Bike photos for emergencies. The police will want a description if you report it stolen so take them a photo! Every bike that leaves Mango Bikes HQ has a unique frame number below the bottom bracket. Other than your amazing custom design this is how you identify your Mango Bike from every other wicked MB ride out there.
#2
Register your ride. Head to >> www.bikeregister.com, The National Cycle Database and register your noble steed. These guys work in partnership with the police across the UK and have compiled a huge data base of bikes. So when a bike is stolen it can be flagged ASAP and stopped from being re-sold illegally. Registering your ride doesn't cost a penny. With that you get a lifetime registration for the database, a logbook for proof of ownership and secure online access to your account. Smart eh?
#3
Buy a hefty lock!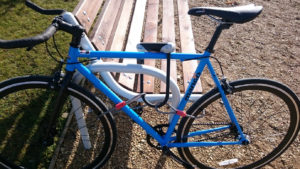 Coil Locks – Lightweight, packable locks like the Onguard Akita 8042/43. These are more of a deterrent than a bolt cutter stopper. Great for securing your wheels to the frame, coil locks can be used in connection with a stronger chain/Dlock.
Chain Locks – Tough chain locks are a big deterrent to thieves and require serious tools to break through. These anodized chain rings are covered in a synthetic covering to protect your great looking Mango frame. Chains like the Knog Straight Jacket do a great job and happen to come three colours.
D-Locks – Arguably the best protection going. D-locks are hefty metal on metal locks that combined with a cable/coil lock provide the best security for your precious single speed/geared Mango Bike. The OnGuard Bulldog/Pitbull D-locks and D-Lock/coil sets will help you rest easy knowing your Mango is safe. We've also just launched the Urban Bike Hiplok products. These ingenious little D-locks fit into your back pocket/secure to your hip for easy access and also means you don't require a bag.
Now you've got the gear and registered your ride make sure you lock it up smart. Do everything you can to make life hard for thieves. Lock up your ride in well lit, busy areas to a secure railing/bike rack set up.
KEY POINTS
Buy a lock or two. You know it makes sense
Note down your frame number (below Bottom Bracket)
Register your bike online with the NCD
Lock it up in a smart spot.