Posted by James on 21st Jun 2017
1. Safety first!
It's essential to wear a helmet when regularly cycling in the city (or anywhere really for that matter), it's simply not worth taking risks. You may also see seasoned commuters wearing facemasks to deal with the inevitable pollution of the city. For people who suffer asthma, heart conditions or respiratory issues, a good facemask may be necessary, but for the vast majority of us the health benefits of cycling to work actually far outweigh the pollution risks (this FT article has a good chunk on pollution). Visibility is the next key aspect of safety, it's important that you're seen by other road users and pedestrians, so reflective clothing is a good addition to lights and reflectors.
2. Maintain your bike
You should carry out regular pre-ride checks to make sure that your ride is safe and roadworthy.
3. Invest in practical and comfortable clothing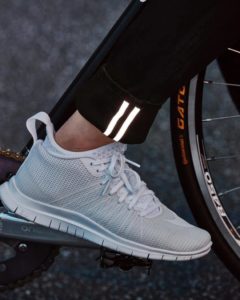 The threads you wear for your commute will largely depend on the distance you're travelling, the type of bike you're riding and even the uniform policy at your workplace. Of course this is going to vary by season, but as mentioned above you should introduce reflective gear where possible. For longer commutes you might go all out and wear lycra, but for inter-city cycling and a relaxed work policy, jeans and a fresh tshirt might be enough. Check out this list of the best commuter clothing.
4. Always secure your bike
For now at least, you're going to have to assume there are lots of horrible people out there that want to take your nice things away from you. It helps to start by thinking about where your bike is going to rest during the working day—will it be inside, outside, in a dedicated bike shed, against a bike rack, or will you have to compete for what you can find? The first bike lock that you buy should be a good D Lock which will be harder to tamper with than a cable or chain. In combination with a D lock, a cable or chain cable can be used to secure the second wheel and/or the saddle. Check out our post on preventing bike theft for more guidance on security.
5. Additional required kit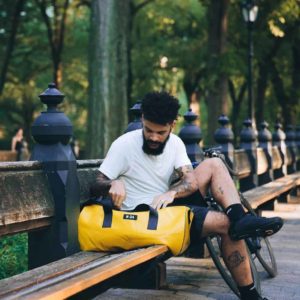 There are a few key items that you should always carry with you whenever you're on the bike. These are:
You'll probably also want to get a bottle mount for a water bottle if you haven't got space in a bag, or just want to access it easily. As to what to put all of this in, we really love these cool bags from M-24, a British brand that reuses Lorry tarpaulins to create hard-wearing unique bags and backpacks.
6. Check that your bike is insured
Make sure your bike is added to your home or contents insurance, and check out our theft prevention tips to prepare yourself as much as you can before heading out on the road.