Posted by Andyh on 27th Jun 2019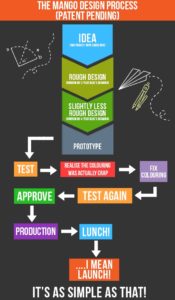 The process of designing a bike (at Mango Bikes anyway) goes pretty much like this…………….
The reasons or motivations to go through this………….. intricate…………… process are endless but at Mango Bikes, we've got some rules we (at least try to) stick to (most of the time) when deciding on new bike additions.
It's what we've called the "Mango Masterplan" and is a simple 5-step rule of engagement type document and goes like this:
(photo also included for reference)
Urban | Recreational | Leisure: Mango is an urban, recreational and leisure bike brand. Read the full story here but a big part of the reason for things going a bit cock-a-hoop in 2017 was deviating too far from this. We're heading back to the foundations Ben and Jezz established the brand on, not trying to take over the world and just making excellent bikes for our customer base.
Designed, Part Manufactured & Fully Assembled at Mango HQ in the UK : Simple. Mango Bikes is not a Box In-Box Out operation. For a number of reasons. We offer over 1 billion (YUP!) options via the custom bike builder. Try predicting that to be assembled in the Far East and shipped in. Then try funding it. It also gives us 3 or 4 touch points for quality checks which most bike brands can't do (we bring in raw framesets so the factories will make sure they only make and send A1 product, we inspect before and after painting and then again whilst be assembled). Painting and assembling in-house also means we create jobs in the UK, can control our stock a bit easier (he says half-confidently) and also add new colours pretty quickly. There are several other reasons but those are the main drivers.
Customise – Customise – Customise: A very key and core part of what Mango Bikes is about. Normally the offering of high end, uber expensive bike brands but we believe it should be available to all cyclists whatever the level. We also accept no responsibility for hours of wasted work time and productivity decreases across the world whilst playing on the Mango Bikes customiser!
Built on Great Value & Best-In-Class Quality Parts: basically, Mango Bikes is about value rather than price. We're not the cheapest bikes in the market but the specification and quality of bikes we offer at each price point are still pretty amazing. We've spent the last 18 months taking quality levels up without blowing the lid off on prices. Bang for buck, we'll happily show you why Mango is packed with quality and value.
**See photo for number 5. Kind of self-explanatory but never really needs to be actioned……………….
Masterplan in place, the design process in place we got to designing a new bike.
The Portland was one of the bikes we quickly chopped from the range. Whilst it was popular and we do get plenty of queries about it, it didn't tick many boxes on Points 1-4 above. So we blew them out and waved goodbye.
But it left a gap in the range where we needed to design a new bike;
Unisex with a slightly more female appeal
Non-Tour de France type riding ie. urban, recreational and leisure
Ability to add panniers, front rack and mudguards if required
Maybe get a few non-cyclists on their bike again after 1, 5 or 10+ years off it
After a few iterations, colouring in, some testing, rejecting, more colouring in and a bit of tweaking and redesigning we've come up with a bike we're excited about and think our customer base will like too.
We've been rolling out a masterclass in new product launch marketing (see here for the Cardboard Press Release and here for the Frame Preview Video ) and are now ready to launch and set live with a pre-order offer.
Just a name to decide on………………….I realised the bike we'd designed was basically aimed at Mrs H (I'll wait tentatively for her order) so the new bike either gets called the Mrs H or my pet name for her.
Introducing……………… the Mrs H , the Grump,
Happy cycling
Mango Bikes // Andrew