Posted by Ben on 4th Jul 2016
Last weekend marked the start of the 103rd edition of the Tour de France. This spartan sporting event lasts 3 weeks through to the 24th of July.. Whilst there are no Mango Bikes "officially" racing in Le Tour this year (more on that later) we are excited to bring you our Tour de France guide for this year.
How does it work?
The Tour De France is essentially a series of 22 bike races around France and surrounding countries, culminating in a sprint finish across the Champs-Élysées in Paris. The leader of the race dons the coveted "Yellow Jersey" this and a variety of other cycling tops jerseys are handed out after each race depending on who's winning. Yellow for the overall leader, spotty if you are fast up the hills, green if you love a sprint finish and white if you are the fastest youngen. This year the Tour de France route flows anti clockwise around France; a somewhat useless fact but one that we found mildly interesting. 198 riders compete in teams of 9 in support of one rider. It's a weird event but over 3.5 billion people tune in across 190 countries.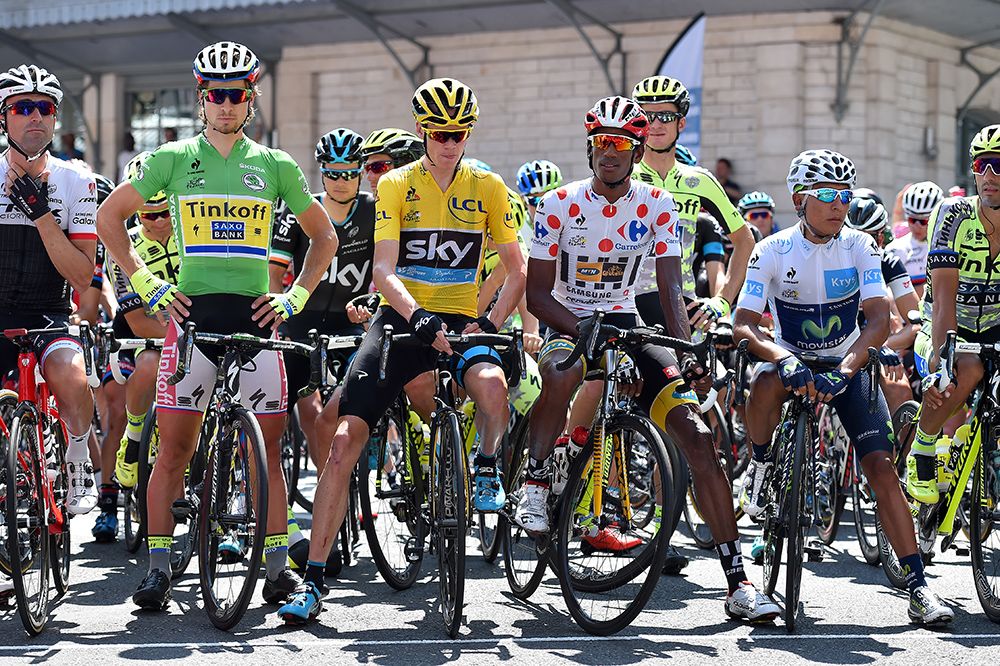 Photo: Tim De Waele | TDWsport.com
Riders to watch out for:
Chris Froome -The British favourite is on for an unprecedented back to back Tour de France title. This softly spoken brit will hide himself away in the pack, known as a Peloton, for most of the tour but will come into his own when they reach the Alps. Watch out for Froome's crazy elbows.
Nairo Quintana - This tiny Colombian is the young upstart in Chris Froome's way. Although he looks like he is in his late 40s/50s Nairo is a mere 26 years old. Nairo will most likely go off like a rocket in the Alps. Watch out for a Froome/Quintana show down on stage 12.
Alberto Contador - The old statesmen but still one of the favorites. Alberto has a dark past of doping but he promises us he's off the gear and riding clean. Known for his explosive riding out of the saddle we reckon he will look to hurt Chris Froome early on in the race.
Peter Sagan - The current road race world champion. Peter has a tendency to pop a wheelie over the line if he wins. He's also got an awful hair cut.
British talent - There are plenty of Brits involved this year. We've mentioned Froomey but other notable names include; Welshman Geriant Thomas, young Adam Yates and the missile Mark Cavendish. These lads all ride top of the range carbon bikes, a bit out of our product range. Never-the-less our mantra here at Mango is to inspire a new generation of riders.. Getting people on bikes, who simply enjoy riding. As we said earlier there may not be a Mango Bikes customer in the Tour de France for a while yet but that doesn't stop them from trying. We mentioned stage 12 earlier. This year the famous Mount Vonteux will lay stage to a Mango Bikes first. Jamie Long, a proud Mango Bikes customer will be tackling the famous climb for charity on a custom single speed. Follow his progress on his page.
A different kind of dope
It's well know some cyclist have a rotten habit during these huge races to take performance enhancing drugs. Here at Mango Bikes we aren't into any of that and never will be don't worry. We do however love that this guy needed a quick beer to summit Alpe d'Huez a few years back. Is that really doping?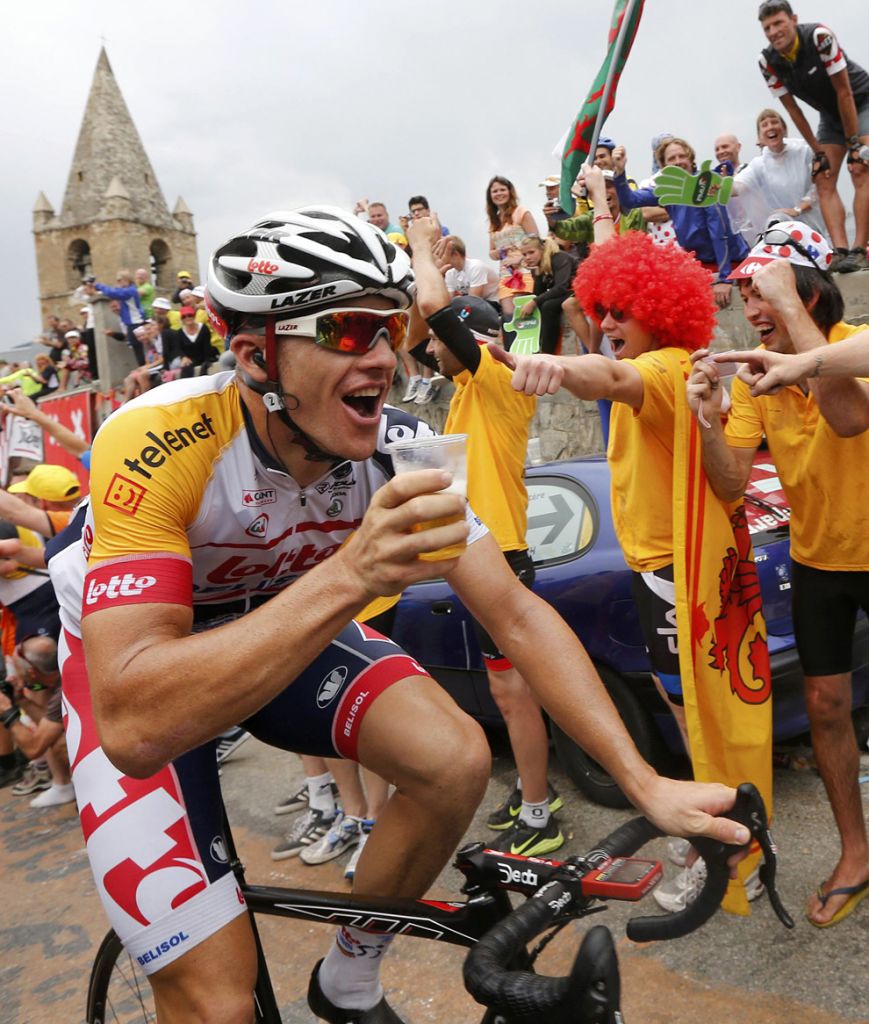 Photo: Twitter | @HansenAdam
No doubt we'll be commenting further as the Tour continues, so keep an eye on the blog and get us on the usual - Facebook, Twitter, Instagram.